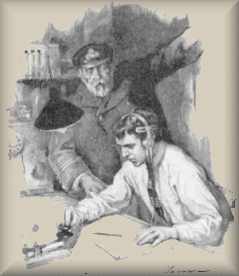 Tom Dailey loves radios. Beginning with a crystal set at age 8, and going forward, I would often "catch it" from my parents, as I was the kid in the basement who'd rather do radio "stuff" than my schoolwork. After high school, I became a Radioman in the Navy, went to school, and worked in the electronics biz in avionics, audio-visual, 2-way radio, and professional Video. Somehow I ended up flying and selling airplanes, and a bunch of other stuff, but I still love radios.

I prefer to repair/restore tube type ham gear ("Boatanchors"), but I'll give anything a shot. Of late, we've become the "go to" folks for Yaesu's ATAS antenna series. These can develop weather-related & mechanical problems, and we can fix 'em.

The shop isn't Engulf & Devour, Inc, but I have modern, state-of-the-art test gear, properly calibrated to traceable standards, and YOUR equipment is treated as if it were MY equipment.

Give us a call or Email with your questions about repairs and shipping.